Texas A&M AgriLife Genomics and Bioinformatics Service was established thru a mission directive from Dr. Craig Nessler, Director of AgriLife Research to radically improve genomic research across AgriLife, COALS, and the Texas A&M University System, addressing a central and pressing need for access to the latest genomic technologies, and world-class laboratory and bioinformatics expertise.  To meet this ambitious goal, AgriLife Research brought together a team of leading genomics, bioinformatics, molecular, and computational scientists to meet the next generation sequencing (NGS) and bioinformatics needs of the TAMU system and broader scientific community. The new AgriLife unit received start-up funds from Texas Emerging Technology Fund as part of a larger AgriLife ETF program.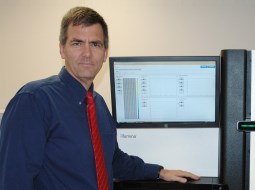 The AgriLife unit is directed by Dr. Charles D. Johnson, who was recruited from the biotech industry to develop a next generation sequencing and bioinformatics program at Texas A&M.   With over 20 years of scientific research and operational leadership experience, Dr. Johnson has an established track record in genomics and bioinformatics R&D.  He  recruited an extraordinary team of Agrilife scientists with vast and diverse background, allowing them to quickly catalyze activity across a broad spectrum of research areas, assuring a high return for each research dollar and generating  significant scientific discoveries. The group has built a collaborative network of over 700 scientists spanning the entire TAMU system, along with a growing number of private sector life science and agricultural companies.    Investments in personnel and equipment have been critical to providing genomics and bioinformatics infrastructure for student training, faculty retention and successful R&D initiatives in the areas of agriculture, life sciences, human health, and veterinary medicine.
 Supported over 735 researchers drawn from over 35 departments, 10 colleges, and multiple agencies across the Texas A&M System.
Involved in over 225 state and federal grant submissions, resulting in tens of millions in new funding for scientists across the TAMU system (>$30M to date).
Launched the Texas A&M and two AgriLife Seed Grant programs- distributing a total of $1.33M in sequencing and bioinformatics services to faculty across the system to generate preliminary data to facilitate outside grant funding. 205 seed grants submitted with over 800 total participants. 51 funded projects,  generating $8M in new funding from the first $400k seed grant program.
Added Illumina HiSeq 2500, HiSeq 2500v4, and two MiSeq systems
Marker Assisted Breeding program
Operate at or near capacity from inception, with fully staffed laboratory and bioinformatics team.
Launched highly successful genomic seed grant program – produced largest response in AgriLife history
Our Vision: Become the leading genomic and bioinformatics academic service provider through superior quality service, innovation, and technical excellence.
Our Values:
Service Obsessed – Dedication to every client's success. Striving to exceed expectation on a daily basis and provide the best serve possible. Trust and personal responsibility in all relationships.
Problem Solvers – "Let us sweat the details, we'll make it happen and not give up!" Problems are to be solved and only viewed as temporary obstacles. Innovation that matters, for TAMUS, Texas & the World.
Excellence and Pride – We strive to be the best at what we do.
Fun and Creativity – Working hard comes naturally, but fun and creativity is cultivated and protected.