Texas A&M AgriLife Researchers now have access to Lasergene Genomic Suite, from DNASTAR.
The DNASTAR Lasergene package includes all of the applications for genomics, molecular biology, and structural biology suites.
Download
Lasergene Genomic Suite can be downloaded from the links below.
Once you have downloaded the software the next step is to request a license from Dr. Noushin Ghaffari. Dr. Ghaffari is a Bioinformatics Scientist at TxGen, and is available to address any general analysis questions that you might have.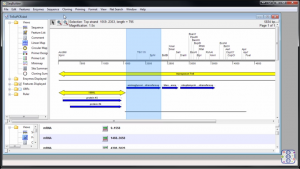 Technical Requirements
Lasergene 14 Introduction
More videos about Lasergene 14 here
Useful Links
More Useful DNASTAR Links
Workflows
•    Association Studies
•    Automated Genome Closure
•    Cancer Genomics
•    ChIP-Seq Analysis
•    Cloning
•    Combined Analysis for NGS Projects
•    De Novo Genome Assembly
•    De Novo Transcriptome Assembly
•    Epitope Prediction
•    Gene Discovery
•    Gene Panels
•    Genomic Visualization
•    Integrated SNP and CNV Analysis
•    Mendelian Gene Panels and Exome Analysis
•    Metagenomic Assembly
•    Microarray Gene Expression Analysis
•    Molecular Motion Visualization
•    NGS Assembly with Sanger Validation
•    Primer Design
•    Protein Sequence and Structure Analysis
•    Reference-Guided Genome Alignment
•    RNA-Seq Alignment
•    Sanger Sequence Assembly
•    Sequence Alignment
•    SNP Validation Control
•    Structural Alignment
•    Variant Analysis