Mike Criscitiello, PhD
Assistant Professor
Department of Veterinary Pathobiology
Genetics
Phone 979-845-4207
Email: mcriscitiello@cvm.tamu.edu
Comparative Immunogenetics Laboratory
The Criscitiello lab s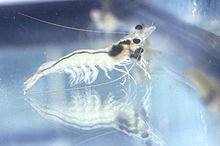 tudies immunology and evolution. Most of our research focuses on the early natural history of the vertebrate adaptive immune system, with particular attention given to the genetics of lymphocyte antigen receptors, mucosal immune mechanisms in the gut, antigen presentation and invertebrate innate immunogenomics.
We are sequencing the genome of the Pacific whiteleg shrimp (Litopenaeus vannamei) as a tool for the development of markers of disease resistance for the shrimp mariculture industry.  The Texas Agrilife Research Genomics and Bioinformatics Services group has been critical in all aspects of this project.
There are a variety of viral and bacterial diseases that frequently decimate stocks of shrimp aquaculture facilities of the US Gulf Coast, Latin America and Southeast Asia. Advances in intensive production technologies and better biosecurity systems have increased yield and reduced viral outbreaks, but opportunistic pathology from Vibrio and white spot syndrome virus crashes are still common at these high densities. We hypothesize that genomic and transcriptomic tools in the widely farmed L. vannamei  that is plagued by pathogen outbreaks will allow focused development of resistant broodstock and reveal unheralded anti-viral and anti-microbial mechanisms in this crustacean. Complete genomic sequence will reveal the innate immune genes in this species while providing data for a myriad of other research pursuits.
The immediate expected outcome of this project is the development of needed genomic and immunogenetic tools for the shrimp farming industry. These tools will facilitate association studies of disease resistance, quantitative trait mapping, the identification and characterization of innate immune gene repertoires, and ultimately, the use of marker assisted selection to identify breeding stock conferring resistance to bacterial and viral pathogens and innate immunotherapeutic interventions. The potential impact is large for an industry with tremendous growth potential. The United States is the major consumer of this $9 billion dollar industry, yet Asia produces 75% of farmed shrimp. Just a single incident can be catastrophic, the Asian White Spot Syndrome outbreak of 1992/1993 cost the industry an estimated 6 billion US dollars in product loss. This is a unique opportunity for agricultural genomics to be applied to an animal innate immune system, obviating the expense and concerns of antibiotic or chemical treatments. Discoveries in shrimp immunology are likely to have application to other commercially and environmentally important crustaceans such as lobster, crab, crayfish and krill.